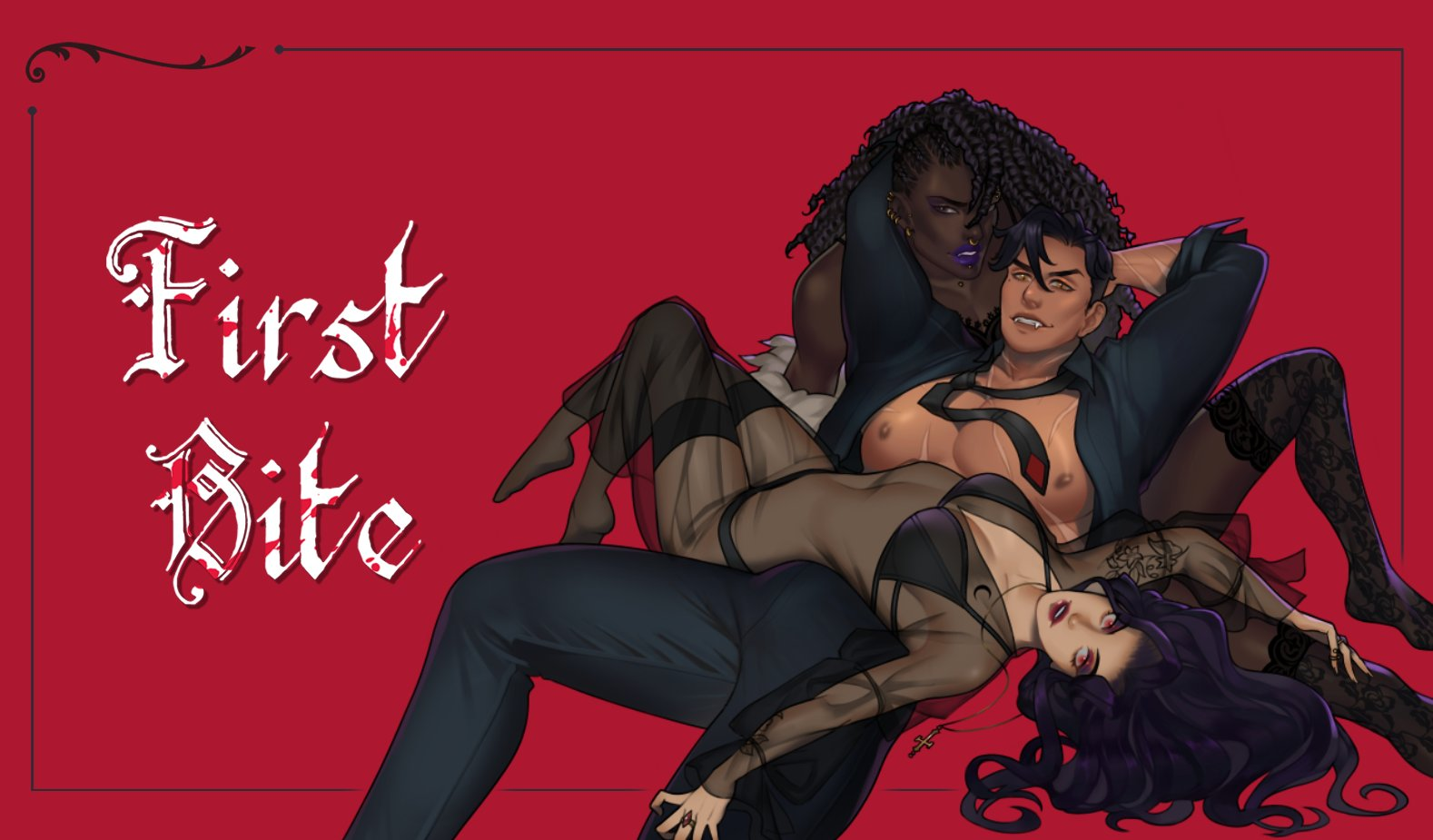 First Bite
A downloadable Visual Novel for Windows and macOS

What would you do if you had the chance at a second life, after death?
Put your destiny in the hands of three centuries-old vampires in this LGBTQ+ dark comedy visual novel. Coming on 17th November, 2021 , this project explores the thing that both humans and creatures of the night have in common: The desire to survive.

Play as Noe, a human and lover of all things paranormal, as they take a chance and enter the strange house on Dead End Drive with the hope that the rumors they've heard about its inhabitants are true. There they find Laurel, Ilyas, and Valeria, and they quickly discover that there's no escape, but not all endings are fatal.
First Bite is rated 18+ for strong language, violence (potential player death), blood and gore, (optional) sexual scenes (including consensual kink and BDSM), (supernatural) emotional manipulation, and other content that some players may find disturbing. Player discretion is advised.

FIRST BITE: BAD BLOOD DLC PRE-ORDERS NOW OPEN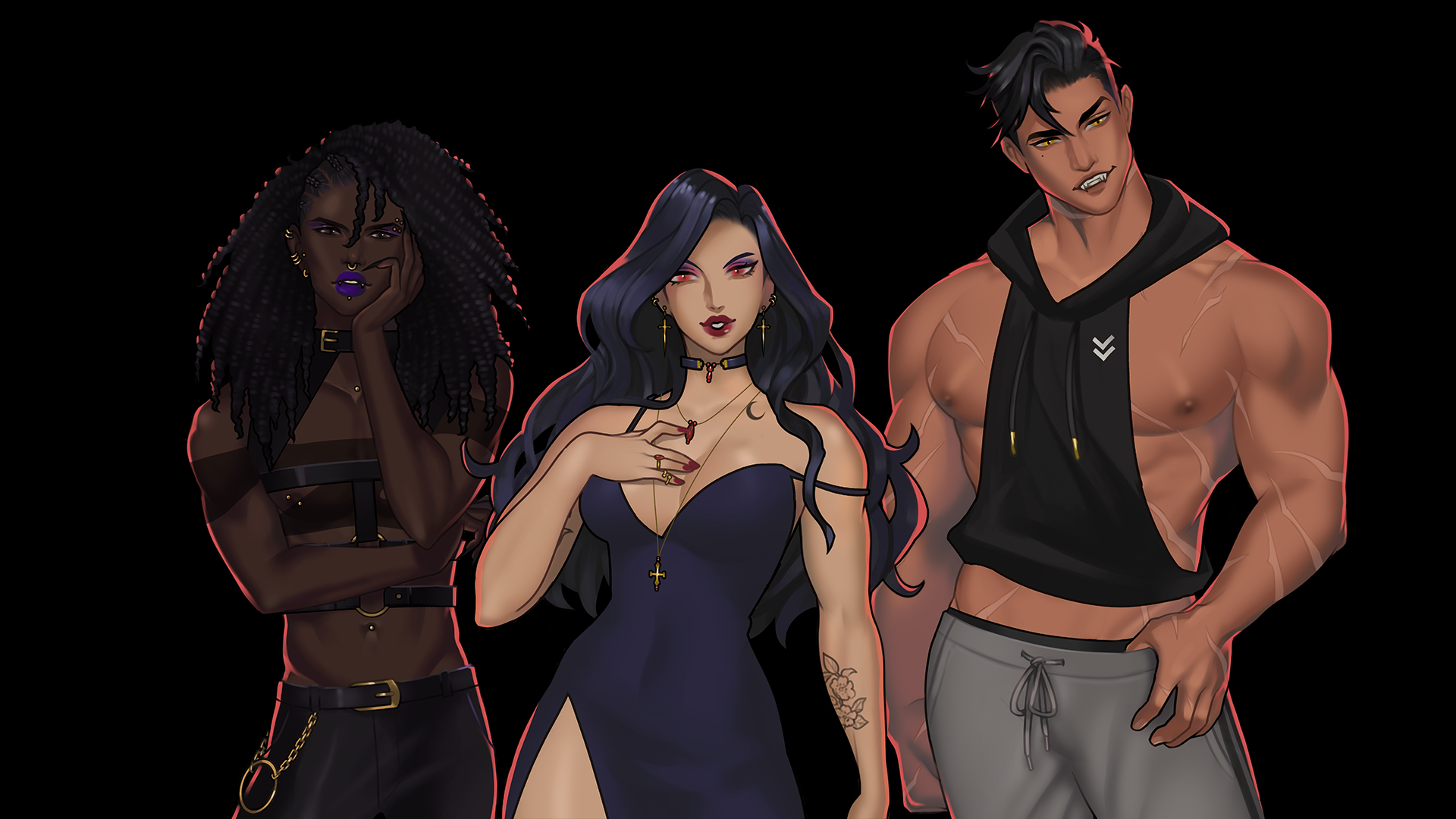 "Is there something I can do for you? Yes. Is there something I will do for you? Quite unlikely, but it's worth a shot."
Laurel (he/they) is pushing 300 and is a lover of Hot Topic, insincerity, and watching their victims bleed out on the floor while they watch TV. He's also a seasoned connoisseur of the backhanded compliment and a force to be reckoned with. Tread lightly. Or not...

"Desperation makes your blood sweeter, so... beg."
Ilyas (he/him) is the oldest but definitely not the wisest of the trio, coming in at a solid 2400 years old. Lover of athleisure, Eurodance, lifting weights, and thinking he's the smartest guy in the room. (Spoiler: he's not.) He's big, he's buff, and he's loveable as hell, but you don't want to be his prey. UNLESS...

"All I'm thinking about is shredding your throat like barbecue, so talk fast."
She might be the youngest of our trio, but Valeria (she/they) certainly believes she has the upper hand. But don't let her pretty face fool you, her bite is far worse than her bark. Though... both leave a pretty nasty sting. She's fucked Dracula, likes poetry, cheating at board games, internet shopping, and warm-blooded murder.

Three vampires to romance

Partial voice acting with the talents of Alejandro Saab (Fire Emblem: Three Houses), Jalen Cassell (JoJo's Bizarre Adventure), and Marie Westbrook (Jujutsu Kaisen)
Approximately 4 hours playtime across all routes and endings

If romance isn't your thing, forge an (albeit cursed) friendship

Choose your pronouns and customize your characters name

Four collectible CGs

Multiple potential 'Dead Ends.' Choose your words wisely, or find fangs at your throat

Multiple potential 'positive' outcomes
Shit happens, so if you come across a bug, please help us out by reporting it!
Purchase
In order to download this Visual Novel you must purchase it at or above the minimum price of $9.99 USD. Your purchase comes with a Steam key. You will get access to the following files:
First Bite (Self-Voiced ver.)
631 MB